Thursday, 08 January 2015
2015 Hair trends forecast
Today we're talking about the forecast for new hair trends for this year. I'm taking cues straight from the runways, magazines and red carpets so that you can all look like stars this year. Literally stars. You'll twinkle and everything.
Looking back at 2014:
Last year I predicted pastel hair colours, rainbows and bright balayage for 2014 in this post: "3 Bright Hair Colour Styles to Try Out in 2014." And looking back over the hair colour styles last year I'd say it was spot on! In April Nicole Richie rocked her new pastel lilac hair on the cover of Paper magazine. Rita Ora flaunted bright balayage style rainbow extensions in July and then went pastel pink all over in November. Ke$ha showed off her full rainbow hair on the red carpet at the 2014 MTV VMAs. Katy Perry kicked off her world tour wearing the technicolor Valentino gown with rainbow hair to match! Demi Lovato rocked bright teal and aqua balayage for magazine Nylon in January 2014, and then again for the cover of Seventeen's August issue with pink, purple and blue. And that's just to name a few. Yes 2014 was awash with colour.
Kesha's rainbow hair 
Katy Perry's rainbow hair
Demi Lovato's aqua balayage 
2015: The year to sparkle and glow.
With so many awesome colours in 2014, what will 2015 have to offer? Looking forward we are taking our cues from the catwalk. This year is about light. 2015 hair trends will glow, reflect, illuminate, shine, light up, sparkle, and shimmer.
Here are two hot trends to try out in 2015…
Glitter is the new Chalk.
So everyone remembers the hair chalk craze right? Easy to apply, washes out fast, great for a party, but best of all its DIY. Well let me introduce hair glitter… Easy to apply, washes right out, great for a party, but best of all its DIY.
Earlier last year I went to the L'Oreal Professionnel "IT Looks" show in Sydney, where they launched their latest colours, showing us the inspirations behind these new looks. Most of the inspiration came from the catwalk, and the fabrics and colours designers in London, Paris, New York and Milan are are using. There was a constant theme of shine and light reflection. Outfits that reflect different colour's under different lights and sparkled with sequins. Some designers even used different lighting effects on the runway to show off the fabrics sparkle and light reflecting qualities.
The L'Oreal session stylist at the "IT Looks" show demonstrated on stage how they brought this theme to the hair with hair glitter. And its so EASY to do! But this is not a new idea. Back in 2011 L'Oreal Professionnel where doing this exact same technique at the MYER Spring Summer 2011/12 Collection.
Shine bright like a diamond.
This thing with both fashion and hair trends is that it can take some time to go from the runway and to reach the streets. But now what was on the runways has come to the high street at the end of 2014. Now you can see a lot of sequins, and glittery fabrics in high street shops. So it's a good indicator that hair glitter is soon to follow.
As bright colourful hair becomes more mainstream we are looking for new ways to push the boundary of what we can do with our hair. We want something fun, but we also want something thats easy to do. Hair glitter ticks all the boxes.
As bright colourful hair becomes more mainstream we are looking for new ways to push the boundary of what we can do with our hair.
Better still you can make hair glitter yourself at home so it's super cheap. But unlike hair chalk, hair glitter is NOT messy and doesn't rub off on your clothes! Yes you heard me right. You'd think you'd be covered in glitter right? Wrong. If you do this the right way you can even sleep with it in and not get a spot of glitter on your pillow.
Want to know how? I'll be covering how to make and apply hair glitter in my next post: "How To: Make your own hair glitter tutorial". Now let me wet your appetite and spark your imagination…
Seriously sparkly new looks for the new year!
 Hair by 
Rebecca Friedman
Amanda Booth
for 
White Label
Hair by 
Daniel Moon
Neon is the new Pastel
Pastel has been popular for a long time now, and I'm not saying it's over. I believe it will here for a long time to come. For those who are trying unnatural colours for the first time pastels are a gentle way to test the water. But for those who have done every pastel shade and then some are hankering for something new, neons is the answer. Where pastel is all about being subtle, soft, mature, Neon is all about being loud, young and vibrant.
Neon hair colours have been around for a while, since the 90's rave scene and cyberpunk days this hair colour has been perceived as grunge and alternative. Retail brands like Manic Panic hair dye have had the 'electric' neon shades for a long time.
But like all fashions neon is back, and it's gone mainstream. It's been upgraded from rave club to catwalk. Blumarine was one of the first in 2012 to shower the runway with neon Mongolian lamb coats and matching bags. Designer Jeremy Scott built his signature style on pop art neon colours. Vogue even featured fluorescent neon hair colours in a full editorial "Her Brilliant Career".
However the best way to tell when a hair colour has transformed from cyberpunk to high fashion is when a professional salon only brand starts making those colours. And that's exactly what happened July last year when Pravana launched it new NEONS colour range. Check out the 'Behind the Scenes" video for the new fluorescent colour range here…
One of the coolest things about neon hair is that these colours will glow under fluorescent UV/Black light.  yep you heard me. Not only would you have amazingly fluorescent hair by day, but at night (under UV light) your hair will literally light up. Manic Panic's 'electric' shades are also UV responsive, along with some of the colours from the brand Special Effects.
We are brighter, we are brighter. Let's show 'em how we light up Tonight. We will glow.
One of the keys with neons is making sure your hair is a good clean bleach blonde base to start with. To find out how to get neon hair and how to apply Pravana NEONS check out this tutorial: Pravana Chromasilk Neons.
So what neon shades will you be rocking in 2015? Here is some inspiration to make you hunger for these highlighter hues…

Chloe Nørgaard
for NYLON Magazine
Madeline Rae Mason
 for
Sticks and Stones
Aleksandra Wydrych 
So will you Sparkle or Glow in 2015?
Leave your comments bellow!
——————————————————————
Want to dye your hair bright colours?
Discover Anya's eBook guide: 'Any Colour Of The Rainbow – The Ultimate Guide to Alternative Hair Colour'. This guide covers everything from safe bleaching with ammonia free bleach to creating stunning multi colours with foil. Find out all the best products, how to do pastel colours, how to maintain vibrant colour, create ombre colour like to professionals and so much more…
——————————————————————
Like this post? Share it online…
Newcomer stylist of the year for NAHA
NAHA Finalist: Carley Throgmorton
Salon: Dallas Roberts Salon, West Jordan, UT
Photography: Keith Bryce
These stunning avant garde rainbow finger waves where created by hair artist Carley Throgmorton for the NAHA (North American Hairstyling Awards). Carley is a finalist in the 2014 'Newcomer Stylist of the Year' category. As a newcomer Carley has less than three years of experience as a licensed cosmetologist! Talk about naturally gifted.
Carley works at Dallas Roberts Salon, and has spent the last year touring the USA with the MATRIX Spread the Love Tour. "My life was changed by my hairstylist growing up," Carley said about her hero, "…she was always there for me and helped to boost my self-esteem and inspired me to start this career!" Carly also runs her own blog (has over 5000 followers) called "ROOTS: The Hairy Tales of a Budding stylist!"
The winners of the North American Hairstyling Awards, will be presented on July 13th 2014 in Las Vegas. Good luck Carley!
——————————————————————
Want to learn how to create rainbow hair?
Discover Anya's eBook guide: 'Any Colour Of The Rainbow – The Ultimate Guide to Alternative Hair Colour'. This guide covers everything from safe bleaching with ammonia free bleach to creating stunning multi colours with foil. Find out all the best products, how to do pastel colours, how to maintain vibrant colour, create ombre colour and so much more…
——————————————————————
Like this post? Share it online…
Ever wanted to dye your hair pink?
As a professional hair stylist I would say the most popular alternative hair colour request is for pink hair, so you're not alone. Pink hair is like the blonde of the unnatural hair colours. Why? Because they are both sexy, fun, feminine and both are popular colours with celebrities. Lets look at the whys and wherefores of pink hair, who's doing pink, how it can affect people around you and what pink hair colour says about you…
Pink Hair – History
Though fashion's current embrace of pink hair may seem daringly nouveau, a quick look at newspapers from the past century reveals that, long before the birth of punk , the industry was fascinated by blush-coloured hair — not because pink was rock 'n roll, but because it was pretty.

1914
– A writer named Margaret Mason was an early advocate of the pink hair trend. In florid, punny prose, she wrote about the joys of pink hair in a January 2, 1914 piece for the United Press titled "Mad Rush of Color Extends to the Hair." "If you are simply dyeing to be fashionable," wrote Mason, "then choose a bright shade of cerise, for pink hair is the pink of fashionable perfection." A year later, in the Milwaukee Sentinel , Mason extolled the virtues of henna dye. "Haste then and hie you to the henna if you are a wise woman," she declared. "Begin to red up immediately. If you would be the pink of perfection, you certainly must have pink hair."
1937 – Some twenty years later, the A.P. reported that hair "tinted 'a tender, tender rose' is the great new thing in women's styles." This was according to a European hair stylist named Leo of Vienna, who was in New York to present at the Austria booth of the world fair.
"Pink hair," claimed Leo, "is perfect for evening, 'because women, at evening, should always look flower-like.'" Leo, whose clients included the Duchess of Windsor (who, incidentally, did not dye her hair pink), also maintained that women should change their hairstyles at least 10 to 12 times per year, "because many men are completely sick of the way their wives do their hair."
"If you are simply dyeing to be fashionable,then choose a bright shade of cerise, for pink hair is the pink of fashionable perfection." – Margaret Mason, January, 1914
1940 – In World War II-era London, the U.P. reported, blondes who found that their hair clashed with their khaki uniforms began clamouring for a pink tint. "Blondes are going to turn pink because they have found out that their soldier boy friends prefer brunettes or chestnuts-or pinks," wrote the U.P.
1960 – Though pink hair trends are generally geared toward the fairer sex (John Cale and Dennis Rodman notwithstanding), a November 1960 bit from the A.P. declared that in at least one Cambridgeshire town, "A boy without pink hair is a boy without a girl friend." An eighteen-year-old named David Grange told the newspaper, "At first the girls laughed but now they won't go out with any boy who hasn't got pink hair…It makes you stand out in a crowd." The trend unfairly favoured blond boys, though, as "on chaps with dark hair the solution tends to turn their hair scarlet."
Pink Hair – Music Industry Celebrities
In the past the music industry  has had it's share of pink haired divas, Cyndi Lauper and Toyah Willcox are some of the earliest. In 1984 Madonna paid her pink dues on the British television show Top of the Pops. The material girl sported an ultra pink wig while preforming "Like A Virgin".
1980's
Then in early 2000 pink hair made a come back. Gwen Stefani put her spin on the trend à la braids in No Doubt's music video for "Ex-Girlfriend". Sales in fluorescent pink hair dye increased exponentially. 2001 Christina Aguilera first had subtle pink streaks, but Aguilera's still rocking the pink in her 2012 video, "Your Body". Of course I have to mention the original rocker, whose very name comes from her iconic pink hair she first had when going solo in 2000… P!nk. Even today P!nk still puts subtle pink tones in her hair from time to time.
2000
Pink Hair – Hollywood
Pink in Film:
Pink hair on actresses:
Pink Hair – Fashion
On Models:

Lastly, let's not forget My Little Pony with its original bright pink mane. Having so many celebrities – usually alternative celebrities to some degree – adopt pink hair at one time or another only increases the popularity of having pink hair.
Pink Hair – Psychology
Pink has in incredible effect on us, it can affect our taste buds, calm our temper and zap our strength…
Calming pink could sap Samson's strength better than a haircut
Pink has also been found to have a tranquillising effect. It encourages friendliness while discouraging aggression and ill-will. Some studies of the colour pink suggest that male weightlifters seem to lose strength in pink rooms. Prison holding cells have been painted pink as an experiment and have effectively reduced erratic behaviour. The tranquillising effect of the colour pink was made use of at Iowa State University in the 1970s: Football coach Hayden Fry had the visiting team's locker room painted pink as a much-debated attempt to, erm, relax the players more than they would have liked!
Pink hair – Meaning and Symbolism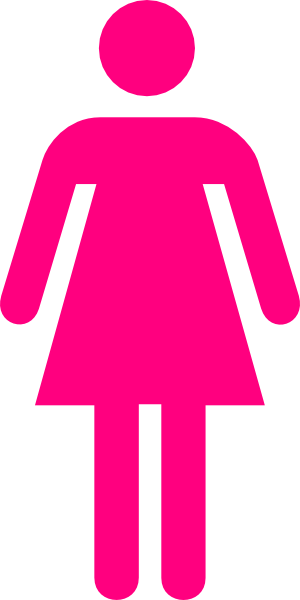 Pink for a Girl:
Pink is well known as the colour for girls. As a result pink is associated with gentleness, youthfulness, love and femininity. It's strong association with femininity means it's often used as a symbolic colour for women. It's used in girls baby clothes, pink ribbons for breast cancer, on the door to identify public women's bathrooms. Pink is even used in logo's to identify as being a girls brand. (For example; Hello Kitty, Barbie, Victoria Secret, Diva and Supre). So having pink hair for a girl enforces her femininity.
Pink for playful and sexy:
Pink is a softer, less violent red. Both colours denote love, but while red is direct, hot and passionate, pink is playful, flirtatious and romantic. "Dressed in Pink Makes The Boys Wink" is an old expression suggesting that men find pink attractive. In Japan, the sex appeal of pink is well known. Japanese erotic cinema and adult movies are known as 'pink films' due to pink's sexual connotations. In feng shui, the colour pink is connected to love and marriage and is believed to soothe the heart. Having pink hair may suggest you are flirtatious, playful and sexy. 

Pink for a Boy:
During the first half of the 20th century pink was considered a boys colour. It wasn't established as a feminine colour until the 1940s. Most likely as a result of mass marketing by American retailers, however experts are still debating the origin of gender associated colours. By 1959 New York Times quoted a children's clothing buyer, "A mother will allow her girl to wear blue, but daddy will never permit his son to wear pink." Today's strong gender association with pink means pink hair on a boys would be considered emasculating.
The most well known pink symbol for men is the pink triangle. It originated in Nazi concentration camps during World War II. The downwards pointing pink triangle was used to identify male prisoners who were sent there because of their homosexuality. Today the pink triangle has become one of the symbols of the modern gay rights movement. The icon has been reclaimed as a symbol of empowerment, and, by some, a symbol of remembrance to the suffering of others during a tragic time in history.
Due to the pink's association with gay rights, we now have an economic term "pink pound" or "pink dollar" which refers to the spending power of the LGBT community. Advertising agencies sometimes call the gay market the pink economy.
Pink hair or wigs are often used as a symbol of gay pride in Mardi Gras parades or worn by drag queens. Gay model, fashion designer, makeup artist Jeffree Star  is famous for his pink hair and gender-bending appearance. There is even a children's book called, "The Boy With The Pink Hair," which is a euphemism for "the boy with homosexual tendencies". It's the story of a boy who is not afraid to be who he is and how his difference makes a difference.
If you are a straight male and want to dye your hair pink, be aware that people may make assumptions about your sexual orientation based on your hair colour. However if you're gay and proud, then dying your hair pink  is a great way to express yourself. 
Pink Hair – What Colours Work With Pink?
Pink fortunately works well with almost all the other bright colours. Pink's opposite colour in the colour wheel is light green, so this combination will give a great contrast. Some other good combination's are..
The only colour that it will clash with is red. Red heads with pink streaks usually don't work unless you're specifically looking for a colour clash.
If you just want pink streaks and an all-over natural colour, I would suggest using black if you like hot pink, and light blonde if you want candy pink streaks. Brown bases can look OK, but to really get those pink streaks standing out I'd suggest blonde or black for the natural all-over colour.  For any combinations, you'll need to put the colour in foil packets to stop them mixing.
Thing to Watch Out for When You Dye Your Hair Pink
Dying your hair any bright colour is a messy business. So be sure to use gloves, old towels and old clothes you don't mind getting colour on. Pink will take best to bleached or blonde hair. You can go to a salon to get your hair lightened, or if you wish to do this step at home I would strongly advise you read my guide first.
If you have had a previous bright colour in your hair and it has washed out but you still have residue, you need to consider how this may affect the the result of the new shade of pink you wish to dye your hair…
1st Example: If you have recently had blue in your hair, your hair will still have a pale blue residue. If you then want to put pink over it the result will be more of a purplish-pink colour. (BLUE + PINK = PURPLE)
2nd Example: If you previously had yellow in your hair last time, you will have a pale yellow residue left. If you then want to put pink over it, the result will be more of a light orange colour.(YELLOW + PINK = LIGHT ORANGE)
Another thing to consider with dyeing your hair pink is which shade of pink you want to go for. How long do you want the colour to last? The darker the shade of pink dye, the longer it lasts, and the lighter the shade, the quicker it fades. For example, Special Effects Atomic Pink Dye can be extremely long lasting, even difficult to remove, but Fudge Paintbox Pink Moon may only last two weeks.
Finally… Is Pink Truly the New Blonde?
I'll let you decide. But one thing's for sure – pink hair is here to stay.
And now, if you'll excuse me, I feel a deep and unnatural urge to eat some candy floss…
Video: Celebs Go Crazy For Pink Hair Dye…
Pink hair history source: www.slate.com
——————————————————————

Like this post? Share it online…